About Aktru Research Station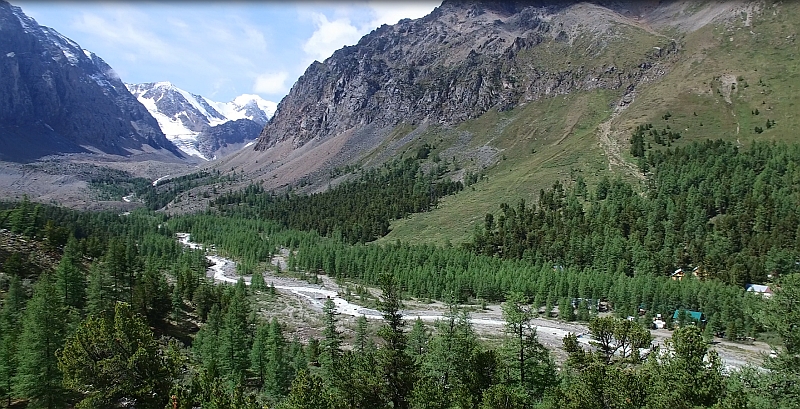 Location
The Aktru Research Station is located in the south-eastern part of the Altai Republic close to the borders to Mongolia and China in the center of the Eurasian Continent (50°06'03" N, 87°40'14'' E). With an altitude of 2150 m above see level, the station is situated in the high alpine part of the Altai Mountains. The nearest settlement is Kuray village about 30 km southeast of the station. The nearest town is Gorno-Altaisk, about 250 km northwest of the station.
Biodiversity
The Aktru Research Station is surrounded by a wide range of ecosystems changing with altitude: Kuray basin intermountain steppe, steppe belt on the mountain slopes, forest belt, high mountain belt with alpine landscapes and glaciers, high-mountain tundra ("goltsy") as well as cryophyte steppe landscapes. A typical high-mountain vegetation is the "Pseudo-tundra", formed in the periphery of glacial fields under Pleistocene continental climate conditions. Some rare animal species reside in Aktru valley, e.g. snow leopards, wolverines, lynx, musk deer, mountain goats, cranes, and lama ducks.
History and Facilities
The Aktru Research Station was founded in 1956 by V.M. Tronov and has been in operation until today. From 1975 to 1995, a meteorological station was operated by the State Hydrometeorological Service. Since 2008 new buildings were constructed comprising a staff house, a dining room for 150 persons, a summer cafeteria for 30 persons, a diesel station as well as showers and toilets. The older buildings, recently renovated includes a 'hospital', classrooms, three apartments (housing c. 60 people), a warehouse, a Banya (Russian sauna), and a tent camp for 200 persons.
Aktru Summer Schools
Summer School AKTRU 2018 (video)
Summer School AKTRU 2018 (booklet)
Summer School AKTRU 2018 (program)
Summer School AKTRU 2014 (video)
Summer School AKTRU 2013 (video)
Summer School AKTRU 2013 (diary)
Summer School AKTRU 2011 (video)
Summer School AKTRU 2011 (success story)
Summer School AKTRU 2011 (assessment)